Ceilink Ceiling Panels from Versiclad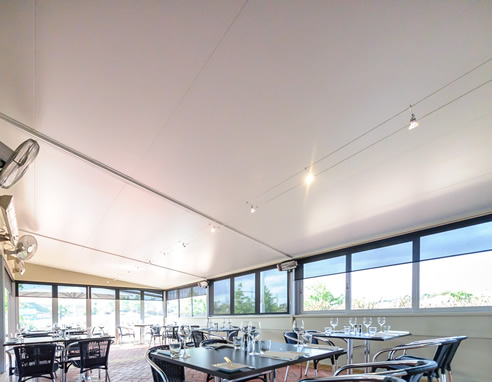 Pre-finished insulated Ceilink panels are specifically designed to fit under existing or new single skin roofing or line an existing wall, and are quick and easy to install in just a few hours. Ceilink delivers great thermal comfort properties, reducing radiant heat transfer by over 90%.
Ideal for new or retro fit projects. For use in domestic and commerical applications, patios, pergolas, gable roofs, screen enclosures, factory units, sheds, awnings, commercial kitchens.
Pre-finished, low maintenance ceiling face
Up to RT3.3 - high insulation value provides excellent
Fire retardant EPS insulated core dramatically reduces radiant heat transfer, mould and condensation
Unsupported span of up to 4m (max supported span 6m)
Self mating interlocking joints
Specifically designed aluminium perimeter angles to suit flat or gable roof installations
Very light, weighing only 3.85 kg per m2 - fast and easy to fit
LED downlights available
Easy DIY installation.