Highly Integrated Professional Roof Coating System for Fibre Cement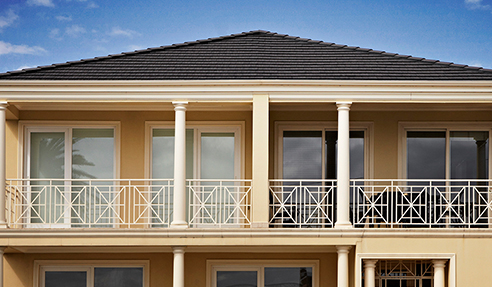 Staying ahead of the relentless growth of construction innovation, JPS Coatings has developed a highly integrated professional roof coating system for fibre cement - Evolving Elements. The coating system is designed to update the aesthetics of aged fibre cement roofs, either to restore their former colour or to seal a new colour.
Fibre cement is one of the most popular roofing materials in Australia, and JPS Coatings has the ideal solution to keep it strong and healthy for as long as possible. From surface preparation to top coating, this highly integrated professional roof coating system provides a full range of sustainable components for quality, performance, and value of a fibre cement roof.
Surface Preparation
Premclean - A high-grade detergent-based product recommended for cleaning roof tiles as part of the roof restoration project. It relieves unwanted moss, lichens, and minor grease or oil deposits that can risk the durability of a fibre cement roof. JPS Coatings supply Premclean ready-to-use.
Anti-Mould Plus+ - A broad spectrum water-based biocide that prevents the growth of harmful moss and lichen on a fibre cement roof. Anti-Mould Plus+ is applied after careful cleaning and before priming.
Roof Pointing
Durapoint - The most convenient alternative to traditional cement and sand-based pointing mortar. Durapoint is a pre-coloured acrylic pointing compound that promises a healthy and crack-resistant substrate even when exposed to changing weather conditions.
Primer Coat
Primecrete - A water-based acrylic primer perfect for chalky or dusty surfaces like fibre cement roofs. It exudes an excellent penetration plus binding properties, increasing the adhesion and sealing performance of the subsequent coatings.
Levelcoat - JPS Coatings installs Levelcoat to flatten and level badly weathered fibre cement roof tiles. It ensures a smooth and even surface for a better top coat application.
Top Coat
Duramembrane - A 100% acrylic formulation that revives old colour or provides a completely new look for fibre cement roofs. Its highly durable pigmented flexible finish produces a semi-gloss coloured finish; not only aesthetically pleasing but it also provides ultimate weather protection and resistance to mould and lichens. Available in a range of vibrant colours.
For further information about Evolving Elements Professional Roof Coating System for fibre cement, visit www.jpscoatings.com.au today.