Industrial Non-Slip Epoxy Floor Coatings from Poly-Tech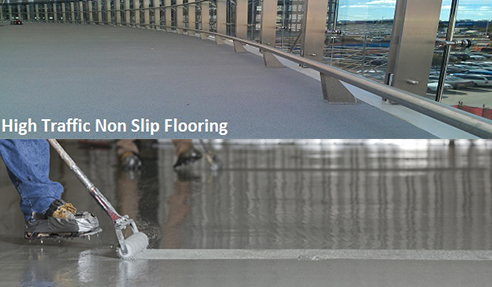 Installation of industrial non-slip epoxy floor coatings is the easiest and most practical means of protecting surfaces from the detrimental effects of an unsecured environment. An excellent choice for an integrated surface plan, Poly-Tech's non-slip epoxy floor coatings emerged as one of the most sought-after materials for commercial and industrial floorings.
As a thermosetting plastic, epoxy flooring enhances the chemical resistance and structural integrity of a surface with a high-gloss surface finish. Highly versatile, it can be combined with paints and colours; it is also quick and easy to install, and easily well-maintained.
Poly-Tech is the most trusted name in the epoxy industry, supplying quality products and services to the Australian market for more than 30 years. What sets the team apart from their competition is their great attention to detail throughout the whole process when installing their non-slip epoxy floor coatings. The team utilises superior and large-scale machinery and tools, delivering a superior floor finish that ensures decades of protection.
Learn more about Poly-Tech's Industrial Non-Slip Epoxy Floor Coatings by heading over www.poly-tech.com.au today.