Non-structural Exterior Insulation Sheathing Board from Bellis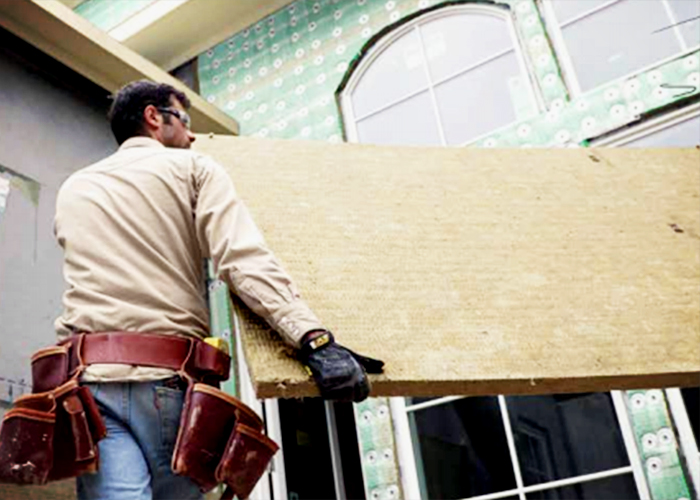 Rockwool Comfortboard® 80 from Bellis Australia is a non-structural, exterior insulation sheathing board engineered to provide continuous insulation for residential or commercial buildings. These fire-resistant boards offer excellent hazard protection while providing superior thermal performance. Because they are very easy to use, both professionals and DIYers are happy to work with this material since it can be easily cut with something as simple as a bread knife.
The improved thermal performance of Comfortboard® 80 can be attributed to its use of wood framing, which allows for a better-rated building envelope while also providing excellent sound absorbency. And because of its water-repellency and low moisture absorption properties, it won't grow mould or break down with exposure to moisture.
Non-combustible with a melting point of around 1,177°C, Rockwool Comfortboard® 80 from Bellis will not generate smoke or spread flames, making it safer for both occupants and assets in case of fire. Specifying this board may also contribute LEED® points toward your property, making it an even greater investment. Rockwool Comfortboard® 80 has been certified by the California State Fire Marshal's Building Materials Listing Program (BML) and received ICC-ES (CCMC 12718-R & 13573-L) validation for the following applications;
Non-structural thermal insulation for non-fire-resistive rated residences.
Exterior perimeter insulation around foundations.
Under a flat concrete slab.
Segment for residential wood-framed cathedral ceilings.
Heavy termite-prone infested areas.
Make a better choice today with Rockwood Comfortboard® 80 for effective insulation by reaching out to Bellis via www.bellis.com.au.