Axolotl Group's Link winner of three awards at DesignEx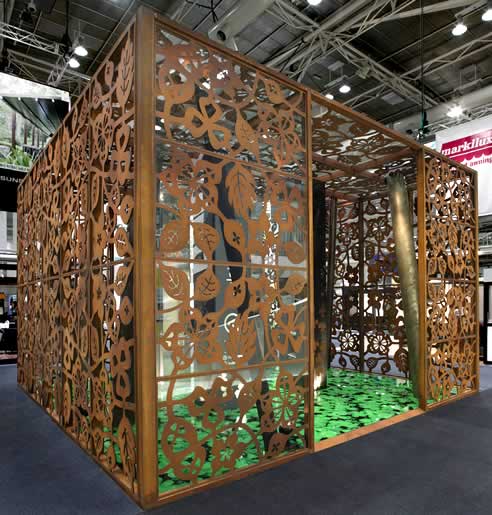 "The judges were uniformly blown away by the design potential of LINK. We could have spent hours guessing the technology: from designer to inventor to materials scientist: every judge was enthralled."
We are blown away by the accolades and interest in LINK, but not surprised. 'Link' is the perfect integration of science and beauty that can only be delivered by the integration of Axolotl Metal and Axolotl Ozone.
This unique product contrasts a traditionally course material with the delicate nature of glass so the rust appears to float in the air. Link can be used for screens, feature walls, doors, signage and balustrades. In fact anywhere you require beauty and durability as the product can be used in and outdoors. As with all our products, the final design can also be custom made to your specifications or you can even create your own template.
As well as 'Best New Product' award at Designex, Axolotl won two awards for 'Best Stand 30-70m' and 'Best Dressed Stand'. Rusted screens formed the walls and ceiling and Axolotl Ozones 'Miro' glass laminated floor featured an enlarged clover leaf design. Link was of course included, as columns and external glass panels. The PVC poles were coated in 'Skin' by Axolotl Metal. This beautiful stand was created by Idiom Design Practice.
Attached please find images of the stand and detailed images of LINK, Miro and Skin.