The Caravelle metal TV unit from Axolotl Group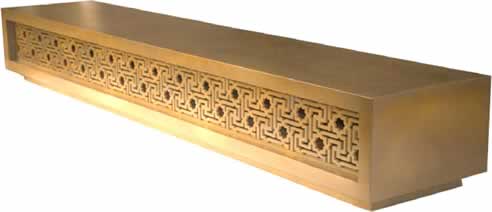 Introducing the new Caravelle TV unit from Axolotl Metal. Featuring three designs of lasercut screens, the unit gives you the ability to disguise hardware for DVD, video and Foxtel unites while retaining the ability to use your remote control. It also has plenty of room for storage of other unfashionable items such as TV guides, remote controls and DVD's.
Caravelle is genius in that the screen can easily be removed with the use of magnets for easy access. It also looks fantastic.
The Caravelle unit pictured in coated in Treasury Bronze Pearl, however all Axolotl metals and effects are possible to suit any interior. Available in a range of standard sizes, Caravelle can also be custom made to your specifications.