Vandal resistant hand basins from Britex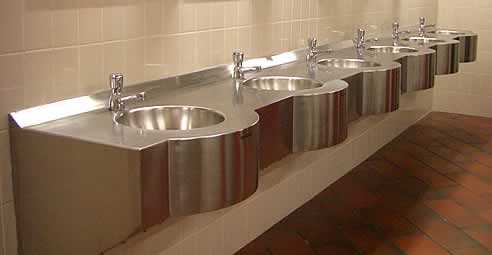 Britex offers an extensive range of anti-vandal stainless steel hand basins found Australia-wide in correctional facilities, public toilets and commercial bathrooms. Incorporating such design features as fully shrouded and concealed traps, tamper proof fixings, access panels and having no ligature points, Britex stainless steel security basins are highly vandal resistant without compromising on aesthetics.
Britex National Marketing Manager, Steve Woodford says of the hand basin range, "In recent times, various models of Britex anti-vandal basins have been specified for and used in such projects as Townsville Prison, Barwon Prison, Melbourne Juvenile Justice Centre, numerous Police Stations, law courts, schools, nightclubs and public toilets, as well as becoming the preferred supplier for all new train station bathrooms within Melbourne's rail network."
Within the range are uniquely shaped, wall mounted, multi vanity, disabled compliant, recessed and pedestal basins, fully hand fabricated locally by Britex here in Australia. Vandal resistant tapware and security wastes are available as optional extras.
As always, being a local manufacturer specialising in custom fabrications, should a custom design be required, Britex is pleased to work clients to supply a stainless steel basin suited to your specific needs.
To view the entire range of Britex hand basins and other stainless steel fixtures, please visit the new website at www.britex.com.au.