GutterTank water storage system - save your rain from the drain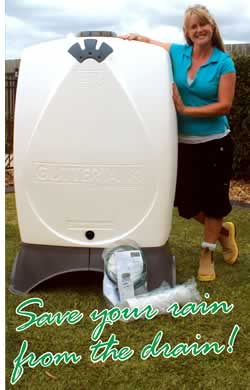 Slim and lightweight design holds over 600 litres! (1485 x 970 x 660mm hwd).
Simple and easy to install, should you move home you can take the tank with you.
Manufactured from high quality food-grade, UV resistant plastic.
Mozzie proof.
GutterTank™ does not require a prepared base, simply position the tank approximately level on a sturdy surface, such as garden pebbles, or pavers.
GutterTank™ comes with a full accessory pack; which includes the GutterWitch™ Water Collector, stand, hose holder, tap, lid, hose connections and approximately 1m of hose. Excludes main hose pipe.
1800 179 121