MPS Paving Systems' StreetPrint at Launceston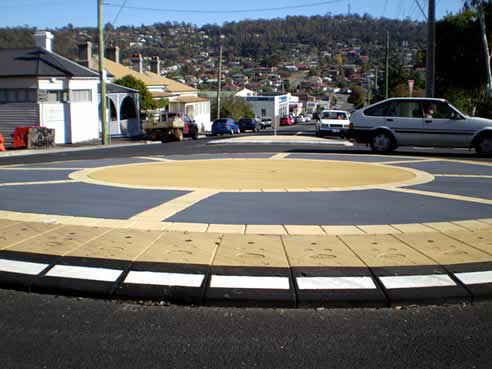 The Howick and Charles intersection just outside the Launceston General Hospital is a high traffic location with a history of car accidents. Launceston City Council reviewed a number of traffic calming solutions and selected StreetPrint imprinted asphalt to create a roundabout and colour co-ordinated splitter islands.
StreetPrint is a specialised product and process by which patterns and colours can be applied to asphalt to achieve decorative and functional outcomes.
A combination of custom colours was used to create visual stimuli to slow traffic down. The design incorporates an imprinted decorative border and spokes replicating pavers coloured in Sandstone. This is combined with Basalt coloured segments and finished off with a centrepiece coloured in Deepstone.
This StreetPrint project was installed by Venarchie Contracting and the product is supplied nationally by MPS Paving.