Durasteel® fire barriers by Promat Australia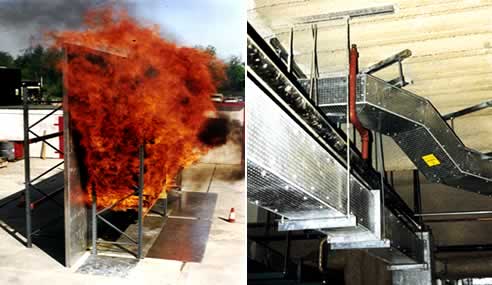 Fire compartmentation using barriers such as DURASTEEL® is currently a vital component of building design, thanks to growing demands from insurers and tough Building Regulations.
Fire barriers help control the course of a fire and the damage it can do, giving occupants time to get out and firefighters the chance to save the building.
DURASTEEL® is a composite sheet made with a core of fibre cement sandwiched between mechanically bonded galvanised steel facings. It is easy to install and tough and durable enough to be installed at an early stage, before the building envelope is watertight. It can withstand prolonged exposure to fire - up to six hours - and, while hot, will withstand thermal shock of spray from fire-fighter hoses or sprinkler action. Yet this exceptional fire performance is combined with lightness durability and very high impact resistance.
DURASTEEL® is typically specified in distribution, storage and warehousing, military buildings, petro-chemical plants, airports, underground train stations, road and rail tunnels, utilities' installations and fire resistant ducting applications for plant rooms and sub-stations, in major commercial and public assembly buildings.
DURASTEEL® has been installed on many prestigious sites in Australia including World Square, Hilton Hotel refurbishment, Kwinana & Vales Point Power stations, Sydney Harbour & Cross City tunnels, and is currently specified for high performance barriers and ducts on numerous projects around Australia.
DURASTEEL® is now available through PROMAT Australia and its distributors. For further information contact PROMAT's DURASTEEL® specialist, David Randle, on 0418 212 484. or go to www.intumex-ap.com.