Help Safe Outdoor Storage Solutions from MailSafe Mailboxes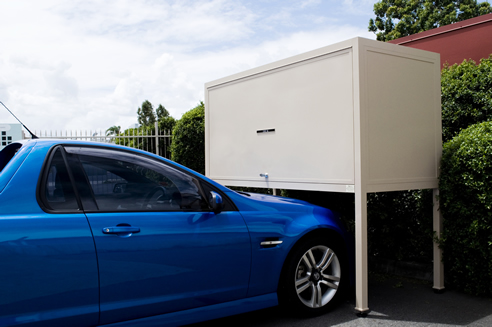 GarageSafe Storage Solutions, a new product from the manufacturers of MailSafe Mailboxes
From the manufacturers of MailSafe Mailboxes, Help Enterprises Manufacturing is proud to introduce one of their new products, the GarageSafe Storage Solutions range. These over-the-bonnet-storage-systems are made entirely from aluminium and have been designed to increase storage in unit car parks and garages where space can be limited. The storage compartments have been designed to not restrict the room required to park a car.
All of our storage compartments are supplied with a three-point locking mechanism, ensuring that belongings are secure from damage and are safe from theft. As the compartment is raised off the ground, possessions are protected from fire, water, dust and vermin,
Help Manufacturing has an in-house powder coating facility that ensures control of the quality of the supplied products from beginning to end. Care and attention is taken in packaging GarageSafe Storage compartments for delivery, which means that they arrive at site on time and intact, every time.
By purchasing Help Manufacturing products, including MailSafe Mailboxes, customers receive a quality Australian-made product and assist in supporting the economic independence of people with disabilities through the operation of a commercially viable business.