Provincial and Traditional European Wood Flooring from Antique Floors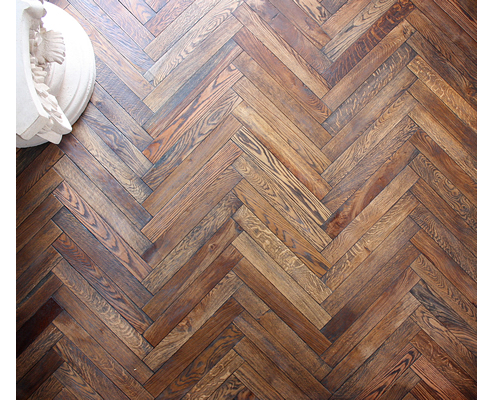 Tucked away down a secret lane in Balmain, century old walls hold up a warehouse, wherein toils a modern day Michaelangelo of French Provincial and traditional European wood flooring.

Walking through the doors of the warehouse is a journey - back to a time when artisans of wood created floors that lasted centuries, and aged with dignity and grace - the way I want to grow old. First, one steps into the showroom - like no other - a series of custom made rooms with individually handcrafted floorboards and unique parquet - a themed library, snooker room, piano room, wine cellar, library, lounge area - each theme to assist you step in and envision how this might look in your humble abode. If you want for a bold statement inside the entry to your home, your senses will be enlivened with John- s unique conglomerations of timber, stone and steel. There is now an evolution in the wonderful world of wood flooring whereby true artisans can create subtle variations in hue by double smoking the boards prior to sealing with oil finishes tinted with pigments, not stains, from Belgium. Most flooring contractors barely know of the existence of wide boards the size available at Antique Floors let alone the recycled railway sleepers complete with bolt heads and inlays to inspire. In this showroom you can see, touch, smell and feel the depth and warmth in each floor. On one wall there are oak floorboards finished in no less than six hues of grey showcasing the ability to create a patina and colour scheme that will please the eye and link with the fittings and furniture your architect or interior designer has chosen. John- s masterpieces emanate in part or in full from the workshop - down below- - with pride and joy, he cuts, sands and oils his timber, each piece being encouraged to bring forth its own distinctive identity and character. Here he shows me the knots in the wood and describes how in recent years, these imperfections were shunned - to some they are treasured marks of the history of that tree - it grew, it had branches, the growth rings tell the story of time and the sawmillers choice of cut. There will always be recognition of the natural beauty these boards reveal. I walk out of that old building, the sun is warm and I enjoy the feeling deep down which tells me I just met a true craftsman who loves to design and create beautiful works in wood and leave a little piece of history in my heart and my home.


02 9810 8838
2/67 John Street, Leichhardt NSW 2040