Pleated Patio Shades from Shadewell Awing Systems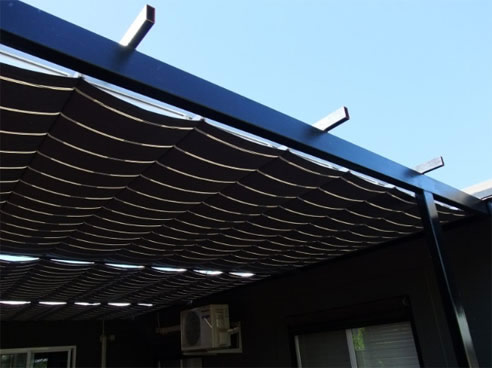 Turn your outdoor living area into a comfortable year-round entertainment area with our Pleated Patio Shades. Great for reducing heat and glare, Pleated Patio Shades can be used on your pergola providing shade in summer whilst still allowing the full winter sun when retracted.

Operated with a cord and stainless steel pulley system for hassle free operation, the awning glides on a series of extruded aluminium rails with nylon rollers ensuring smooth, snag free operation for many years. Fabric choices include: Acrylic canvas - sun proof and water resistant, the most popular choice.
Shade mesh - reduces glare and doesn't hold water We have a wide range of fabric colours and patterns to choose from. We can deliver and install your patio shades Melbourne wide. So what are you waiting for? Come and visit or give us a call.