Polyurethane Concrete Flooring System for Vet School from Poly-Tech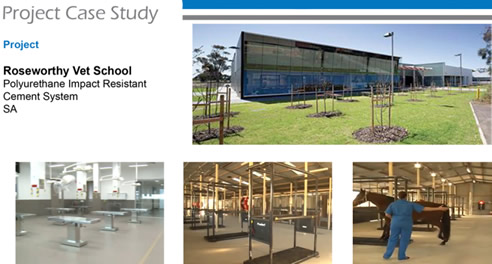 This is a seamless, jointless self-leveling polyurethane cementatious hybrid flooring system typically used when exceptionally high abrasion, chemical & impact resistance is required.

Recommended Use: Warehouse flooring
Food processing units
Assembly lines
Automobile and auto-ancillaries This project required a system to handle abrasions from the unloading of trolleys, animal movements and chemicals used to clean surgery areas. Processes Involved: Captive shot blasting of the concrete to ensure adequete profile and the application of polyurethane cement at 6mm thick. Coving was installed at 5mm thickness.