Secure High Speed Carpark Doors from Premier Door Systems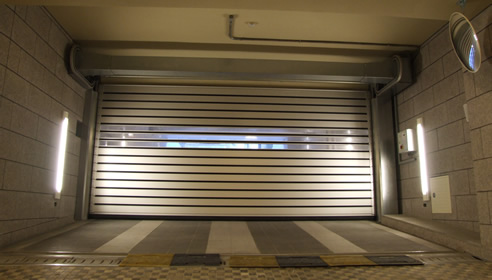 Premier Door Systems recently supplied and installed Secure High Speed Doors to the carpark of the NEW iconic Swanston Square building in Melbourne VIC.
Chosen because they open in mere seconds and close immediately after the car has passed through, the doors prevent unauthorized access by pedestrians and vehicles into the building. Fast and secure doors contribute to safe entries and exits of car parks of hotels, banks, agencies and other public institutions throughout the world.
Often common garage doors are calculated to go through approximately only 5 opening cycles a day, but the EFA-SST® is designed for 200,000 work cycles a year, meaning it can cope with high-use commercial and industrial applications where traffic movement if frequent. This capability results in Low Maintenance requirements, Reduced Operating Costs and Downtime.
Premier Door Systems are licensed agents for EFAFLEX High Speed Doors, which utilize a patented spiral tracking system that reduces the head clearances required for overhead doors. This patented spiral design, is available in Round, Oval and Low-Lintel model tracking systems which are exclusive to EFAFLEX High Speed Doors.