Custom Glass Interior Features from Bent & Curved Glass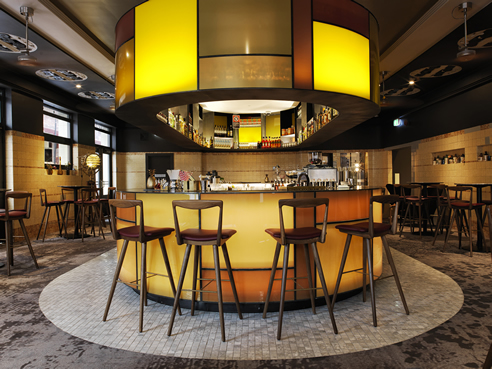 Old Clare Gets Curvy
Vibrant graphic curved glass created by Bent and Curved Glass Pty Ltd (BCG) is the star of the revamp of a heritage bar on the fringe of Sydney's CBD.
The Old Clare Hotel is the result of a five year project combining a 1939 Art Deco Pub with the Victorian era 1915 CUB Headquarters in a contempory but heritage respecting transformation designed by Tonkin Zulaika Greer Architects (TZG).
The illuminated glass clad oval bar is the centrepiece of the reincarnated original pub bar space. The amber tones of the glass are designed to reference the history of the site formerly housing the Tooth & Co. Brewery. The golden colours representing KB Lager, Kent Old Brown and Reschs beer and beer bottles.
BCG worked closely with TZG Architects and the installation contractor, Wellfix Glass, to successfully implement the design concept.
Glass colours were selected following exhaustive sampling and assessment in lightbox mockups. BCG has custom laminated clear curved and flat glass by encapsulating a coloured printed insert with eva interlayers. Clear to the front and a diffusing White opaque to the rear of the insert.