Fabric Canopies Perth Airport from MakMax Australia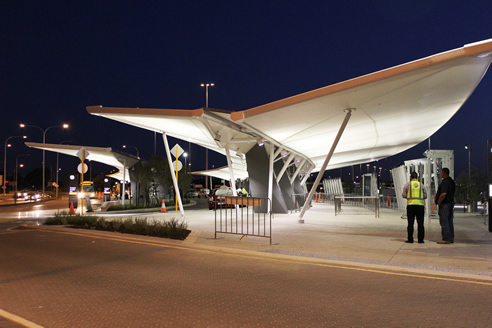 The white folding form of the canopies, reminiscent of the lines and creases of folding paper planes, create a series of winged shapes that shield passengers from the elements under its primary function as a bus and taxi shelter.
The canopies utilise a high-performance PTFE fabric, Sheerfill V from Saint-Gobain USA, which permitted the low planar forms to be achieved without ponding, while providing excellent durability and light transmission due to its Teflon coating and fiberglass yarn composition.
The sloping columns are clad with Ultrabond PVDF coated composite aluminium panels, which are facetted to reflect the planar wing aesthetic. According to the design team, this provided the necessary robustness required for its primary function as a transit point for passengers arriving and departing with buses and taxis.
The fabric canopies allowed for substantial spans and cantilevers, which kept the frequency of pillars to a minimum. This helped to overcome a number of challenges such as the impact of footings on existing services in ground, and provided better cost efficiency compared to traditional posts and sheet metal canopies of a similar stature.