Commercial Umbrellas for Breweries from Instant Shade Umbrellas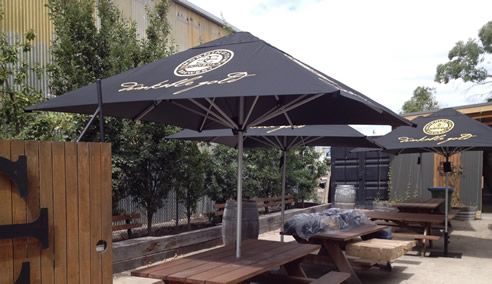 In Australia we are very lucky to have so many boutique breweries opening up, allowing people the opportunity to sample the different varieties of beer being crafted, plus an interesting venue to have lunch or host a party or function. There are more festivals and events focusing on local brewers, creating the need to have a recognizable brand.
Instant Shade Umbrellas has created branded café series umbrellas to a wide range of breweries recently, providing shade and shelter to the breweries patrons, whilst promoting their product.
A popular choice with breweries is Digital printing with UV inks onto our café series umbrellas. This results in the detailed designs of their products being replicated, it looks striking and ensures the customers are sheltered while enjoying a beer.
In addition to showcasing a brand, the café series umbrellas are water repellent and UV resistant, and are easy to open and close with a rope and pulley system. The umbrellas can be mounted into the ground for a more permanent shade solution, or have a base plate/sandbags when you need to move the umbrellas around.
The café series umbrellas are available in 4 different sizes and have light weight anodized aluminium frames. You can choose to have as much artwork, graphics, logos and printing as you want, and we'll create a layout of your artwork for you to approve.
Some of the breweries we have had the pleasure of providing branded umbrellas for are Bad Shepherd Brewing Co, Jetty Rd Brewery, Burleigh Brewing Co, Mr Banks Brewing Co, 2 Brothers, Stockade Brew Co and Mornington Peninsula Brewery.