Folding Apartment Shutters from Brio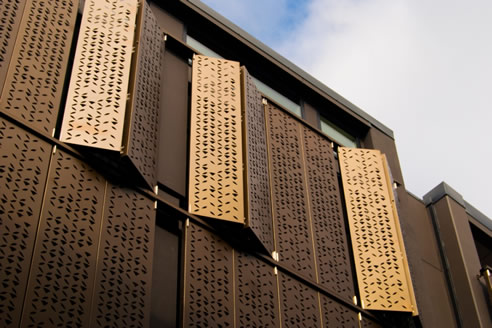 Brio Project: OneThree Cheshire
The luxurious apartments of OneThree Cheshire St are set in an upmarket suburb of Auckland, New Zealand. Designed by Waterfall Gunns Lowe Architects, the building was developed to make the most of its surroundings with an outlook on to the green spaces of the Auckland Domain and the dynamic city skyline which houses the iconic Sky Tower.
A striking feature of the OneThree Cheshire is its cladding of intricate decorative screens which are used as folding shutters on most apartments. The shutters operate with Brio's Weatherfold 4s hardware and allow the outdoor spaces to become functional rooms of the overall apartment.
Weatherfold 4s offers a range of features such as the 286 Dual Point Lock for instantaneous security of panels with a single action and capacity to fold panels 3.3m high on openings as wide as 16m with 8 panels folding on each side.
A range of hinges and finishes make Brio's Weatherfold 4s a true solution to exterior folding doors.
02 8718 6718
C5, Regents Park Estate, 391 Park Road, Regents Park, NSW, 2143