Safe Fast Action Doors from DMF International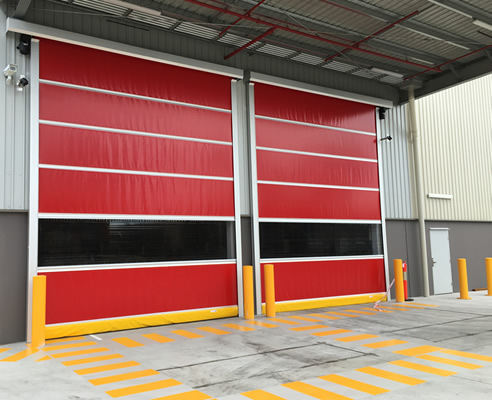 The need for high speed roll doors is increasing in Australia, as quality control and HACCP improvements are needed. The DMF fast action doors can operate with speeds of up to 4.0m/sec depending on the model, which provides minimal opening and exposure time, to allow traffic to pass through. Of course, it is imperative that good safety devices are employed, not only to protect the users, but the door itself, and these come as standard on all DMF doors.
In addition to electronic sensors, DMF can provide visual safety features to their rapid roll doors. This is achieved by two methods...
1. A full width clear vision window, that is independent of the main panel allowing ease of replacement. Some doors only use small window sections within the panel, but by being full width, an increased vision is achieved right across the door. This is very important for openings that pedestrian and forklift traffic use.
2. The use of an optional hi-vis skirt on the bottom rail provides an additional visual safety feature to the door. These are especially useful in noisy locations where the operating door may not be heard.