Airport Toilet & Shower Cubicles from Flush Partitions Australia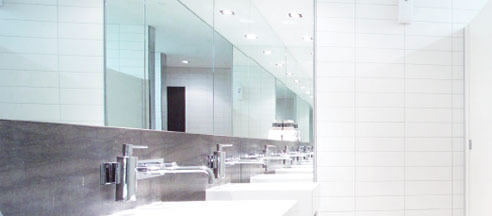 As part of the construction of the Melbourne Airport T2 extension, Flush Partitions supplied cubicles to John Holland Constructions. Working under tight security restrictions over a two-year period, they supplied 29 toilet and four shower cubicles to the public areas in the international departures terminal.
Flush Partitions Squareline system was chosen by the architects, due to the high traffic that would flow through the building, and this hard-wearing and durable system's ability to withstand tough treatment from the public.
The system was supplied in 13mm in Corian® Silver Birch for the doors and Corian® Dove for the partitions. Hobs and mirror surrounds were supplied in Corian® Bronze Patina.
Corian® is an innovative product being used in some cubicle applications. Corian® is durable and practical and, being made from natural minerals and high-performance acrylic, is non-porous and resistant to stains and bacteria. Corian® also meets the international Greenguard standard, proving its low level of volatile organic compound (VOC).
Just some of our commercial projects:
Melbourne Convention & Exhibition Centre
Crown Third Hotel
Crown Retail Precinct
Freshwater Place
Australian Taxation Office, Docklands
160 Queen Street
469 Latrobe Street
303 Collins Street
Metropolitan Ambulance