Choosing between MDF and FJ Pine Mouldings from Intrim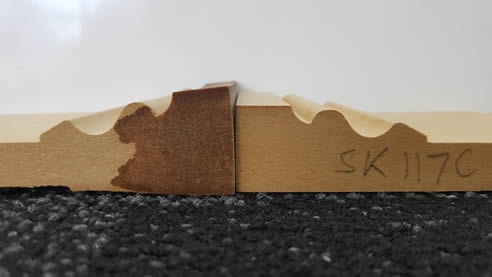 No matter what you are looking to buy on the market these days, we all have so many choices! Even something as simple as a carton of milk can make us stop and think which one is best - lite, skim, A2, unpasteurised, full cream, 2% fat and the list goes on! The same is true for timber mouldings and skirting boards, there is no 'one size fits all' choice, so it is important to understand the different properties between your timber choices, and how each one may benefit (or fall short on) your project requirements.
What exactly are they?
MDF (medium-density fibreboard) is an engineered composite of sawdust, wood shavings, small wood chips and resin that is compressed together to form lengths suitable for manufacturing into skirting boards, architraves and other timber mouldings.
Finger-joined Pine is a solid pine timber where the length is created using small, individual pieces which are joined together with glue and small interlocking 'fingers', which create a neat zig zag effect at the join site. All knots are eliminated in this process.
What are the benefits?
MDF
Cheaper option
High face strength gives it more strength against surface damage
MDF has a smooth surface finish giving a flawless look once sanded and painted and less change of visible voids or splinters