Commercial Insulated Ceiling Panels from Versiclad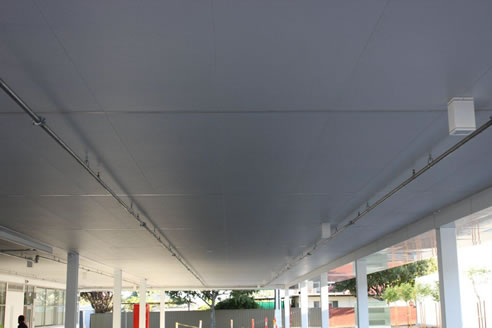 CEILINK COMMERCIAL - INSULATED CEILING PANELS
The revolutionary, fast, effective and attractive pre-finished ceiling system with ideal fire and thermal properties for industrial and commercial installations.
Ceilink achieves a Group 1 fire rating and is available with EPS core to help achieve compliance with BCA Section J requirements. Ideal for new and retrofit projects, Ceilink is very lightweight and easy to install with few visible fixings, making installations fast and simple.
KEY FEATURES & BENEFITS
Compliant with AS/NZS 4859.1 Thermal insulation material
BCA Group 1 Fire Rating AS/NZS 3837:1998
Long term R values up to RT4.6
CFC / HCFC / HFC free - Zero Ozone Depleting Potential & Global Warming Potential
Manufactured with recyclable or reusable materials
Unsupported span of up to 4m (max supported span 6m)
Self mating interlocking joints
Specifically designed aluminium angles to suit any application
Very light - fast and easy to fit
Eliminates multiple products to achieve an attractive finished surface
Ideal for areas requiring a washable ceiling surface.