Energy Saving Rapid Roll Doors from DMF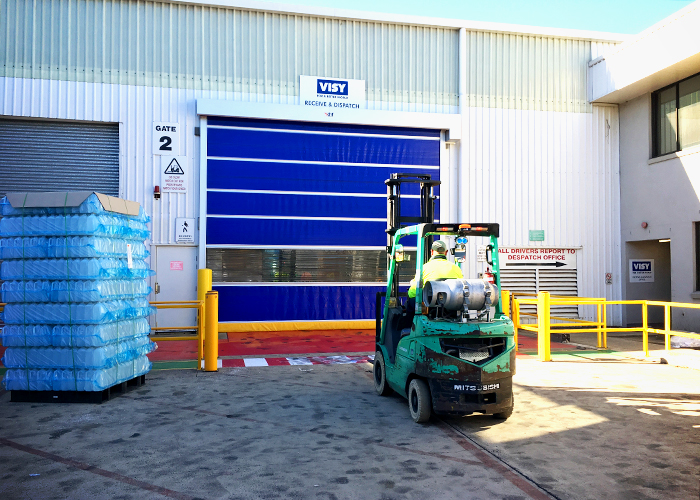 Energy Saving, Safety, and Efficiency: Try the Rapid Roll Door!
Energy efficiency, safety, and productivity are some of the main issues facing today's industrial logistics industries. Of surprise to some operators, the doorways play a big role in these factors, and choosing the right door type and model, will save money and improve operations while also lowering safety risks.
Energy expenses for manufacturers are always increasing, and these costs are putting industrial businesses at risk. This means that plant owners need to carefully plan how their operational elements can help them save on energy. Industrial cooling is one of the biggest potential components for energy savings, with door openings being a source of energy loss. Internal temperatures can vary by as much as 10°C when a doorway is open to the elements and this is because entry of outdoor air into a contained work area may cause air conditioning to work less efficiently in maintaining the desired temperature. This can be especially costly for chillers and cold-storage warehouses.
In order to minimise this loss of energy, it is important to have a door type that is high speed, able to operate many times per hour, and safe to operate. The less time the door is open, the less energy the cooling system will need to draw. High speed doors operate primarily via rolling or folding action, and are suitable for high cycle use with their fast opening and closing times working to reduce energy loss. They prevent airflow and also create a barrier against outside elements.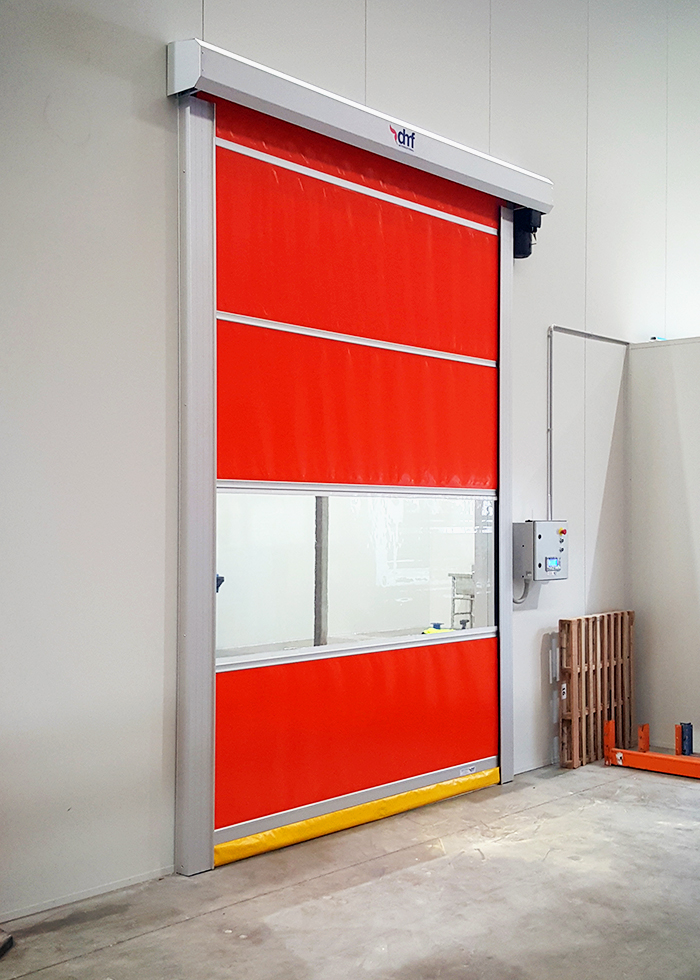 With these types of doors safety is a very important component, required in preventing the entrapment of workers, as well as lateral impact with vehicle traffic and other equipment. Safety systems can be activated by a pneumatic safety edge, light, or motion sensors to detect an obstruction and reverse the door. Some door models can even have the option of incorporating a flexible bottom rail, which provides an injury free solution. Traffic impact can also be prevented by increasing visibility by incorporating a full width clear vision panel into the door blade.
All of these features, and more, can be found in DMF Series RL3000 rapid roller door model, which is a medium-sized, high speed, high cycle PVC door for internal and external applications. The RL3000 door can combine a soft leading edge and a pressure sensitive safety edge for maximum protection, as well as excellent dust sealing and wind capacity.
While the RL3000 can be used in a wide range of industries, it is particularly suitable for customers who need to close large openings in warehousing, logistics, and manufacturing plants, and it offers durability and low maintenance while reducing energy and improving low risk of worker injury or damage to goods. For more information about the RL3000 and how it can be used in your application, contact DMF for a free design consultancy.