Glass Installation for Office Fitout from Bent & Curved Glass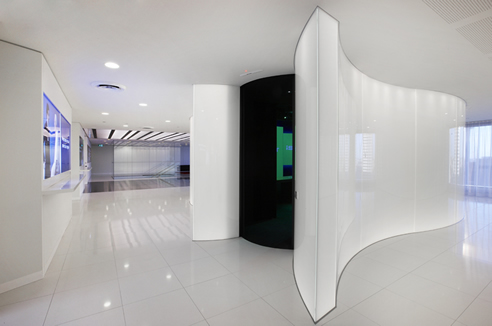 Glass installation for the fitout of IBA Health Australasian Headquarters
BCG recently had the opportunity to showcase our new laminating capabilities on an exciting glass installation for the fitout of the IBA Health Australasian Headquarters.
BCG worked closely with architects HBO + EMT and glazing installation contractor - Gleco Enterprises to develop glass makeup options for consideration in creating the unique "Experience Centre" concept that has become the centrepiece to the main Reception Area.
Complex curved Starphire Low Iron glass was produced and laminated with the Solutia "Polar White" Interlayer, a high density white (7% visible light transmission) ideal for this backlit application. The result is a striking, undulating, glowing form set in a "space ship" like environment.
"Polar White" is part of the Vanceva coluored interlayer range which encompasses a standard range of colours which can be combined to produce an extensive range of secondary colours. Coloured interlayers expand the opportunities of using glass for decorative applications.