Structural Laminated Glass Floor Panels by Bent & Curved Glass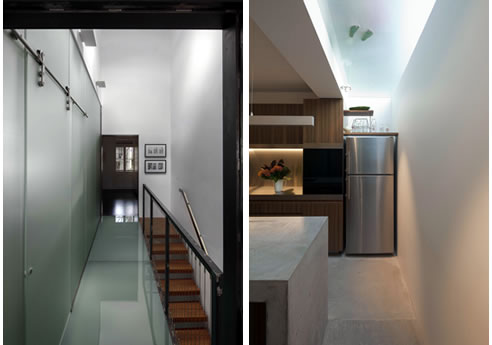 GLASS IS THE HERO
Custom toughened structural laminated glass floor panels manufactured by Bent and Curved Glass Pty Ltd have contributed towards Sam Crawford Architects innovative "Light Box" project winning the prestigious Viridian Vision Award for Best Residential Interiors Use of Glass 2010.
Comprising 2 layers 15mm and a top layer of 6mm toughened glass, laminated together, the floor panels allow light to flow between the levels of an otherwise narrow and potentially dark terrace house in inner city Sydney.
The use of glass has allowed a structural element to achieve a visual lightness and softness while also encouraging daylight to spill through the multi levels of this residence.
The external entry terrace glass floor incorporates an antislip frost seraphic frit fired into the top surface of the glass.
Internally, the glass floor to the landing bridge outside the bathroom includes a "soft white" interlayer which creates a translucent luminous glow.
Glass proved to be the ideal functional and aesthetic solution working well within the monochromatic palette of materials used by the architect and contributing to the interplay of tactile finishes. The architects stated that "the luminosity of the glass and the sense of space it creates is very important" to the success of the project.
The architects also stated "Glass allowed the conceptual idea for the project to be played out. A single sculptural staircase weaves together the three levels from a heavy concrete base at the lower ground level to a luminous platform of steel and glass at the upper level.
Glass replaces the original tiled front porch and sheds light into a previously dark basement level kitchen and dining room reducing the need for artificial light.
The architect says "it really is a peaceful light that comes through into that area. It just glows. There's no shadows associated with the light and that is a major part of how people respond to that space."
Bent and Curved Glass are constantly working to develop new methods and techniques to meet the growing demands for flat and curved structural glass applications such as floor panels, stair treads, pool windows and wet edges, structural balustrades, roof and awning panels to name a few. Contact: Ph: 02 9773 1022 www.bentglass.com.au