Hi-Impact Jambs from CS Cavity Sliders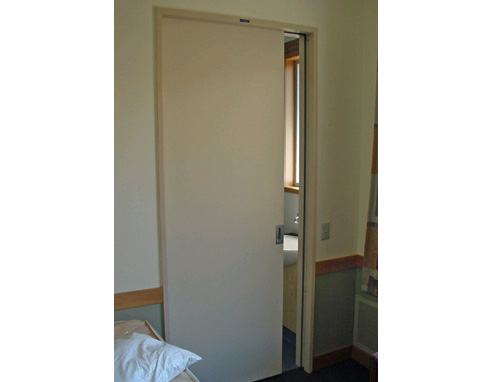 A CS Cavity Slider is a functional and efficient alternative to conventional surface sliding or hinged doors. Our Cavity Slider units enable a door to slide inside the wall leaving the floor and wall space on both sides clear and unobstructed.
The CS Hi-Impact Jambs have been developed for use in areas subject to damaged jambs and wall linings. The split jambs, closing jambs and head jambs are made from extruded aluminum with a 3.5mm thick wall (twice the normal thickness of our standard aluminium jamb) and are designed to accept 26mm thick linings on both sides.
A big advantage of using a cavity sliding unit in an area subject to trolley impact damage is that the door leaf can be opened fully into the cavity, eliminating the door leaf damage that is a common problem with hinged or surface sliding doors. With the door removed from the traffic area, Hi-Impact Jambs and 26mm thick linings, damage in and around the door way is significantly reduced.
Buildings subject to this type of damage/abuse are generally those places using trolleys, beds, wheel chairs, etc. For example, hospitals, airports, acute mental health facilities, supermarkets, shopping centres, warehouses and factories.
Design Features and Options:
Very rigid jambs (suitable for higher than standard doors).
Choice of powdercoated or anodised colours.
Available as single or bi-parting double units with or without a door fitted.
The patented cavity frame is engineered from high quality heavy duty extruded aluminium.
All aluminium components are screwed together for strength and reliability.
Pine nogs, skirting and split jamb blocks are fitted to the aluminium frame for ease of fixing gyprock, skirtings and architraves.
4-wheel carriages may be fitted for heavier doors.
Fully tested and guaranteed.
Door and carriages can be removed without removing wall linings.
Door cannot jump off the track.
Designed to fit into a standard thickness wall (90 x 45 Kiln Dry).
Able to take standard and non-standard size doors.
Door guides are not visible on installed units (various door guide options available).
Supplied fully assembled for on-site installation.
Nogs offset to allow nailing of incoming wall. Extra nogs can be easily fitted.
Aluminium backstud and aluminium bottom plate are pre-drilled for fixing on-site.
The CS Cavity Sliders hardware division CaviLock manufactures a range of high quality security mortice locks suitable for internal cavity sliding units. If you are considering hardware then it may also be worth thinking about our factory fitting service and have us fit the handle for you.