Gas Fired Tube Radiant Heaters for High Ceilings from Celmec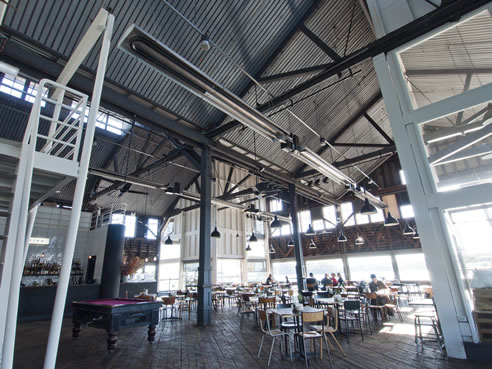 THE BAR AT THE END OF THE WHARF
Housed inside Sydney Theatre Company, in the historic Wharf building at Walsh Bay is 'THE BAR at the end of the wharf'. The extremely high ceiling in the building creates a vast volume of space. A tricky predicament when it comes to heating in the cooler months.
Celmec International's Heatray gas fired Tube Radiant Heaters (TRH) were installed to provide a heating solution for the bar. Heatray TRH heaters have been engineered for high volume spaces, perfectly suited to the vast interior of 'THE BAR at the end of the wharf'. Mounted up high, suspended from the structural beams, each TRH unit heats a large floor area, directly warming people and objects below, not wasting energy trying to heat the air.
The gas fired Tube Radiant heaters do not glow and produce a medium intensity radiant heat, ensuring ultimate comfort for people in the space. The heaters are highly efficient, having energy savings of up to 50% compared to conventional warm air heating systems.
Available in a range of sizes, mounting options and controls, Heatray Tube Radiant Heaters are the perfect solution for large volume spaces with high ceilings. For further information please contact Celmec International.