Fire Resistant Pipe Lagging Promaseal FlexiWrap from Promat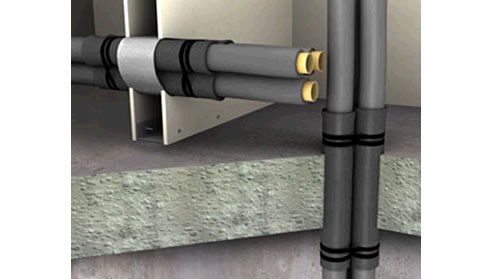 PROMASEAL FlexiWrap *Australian Made*
It is common that some services such as copper pipes for air-conditioning units are wrapped externally with a layer of insulation in order to improve the thermal efficiency of the units. The insulation in general is made of a combustible material and as such, when penetrating fire resistance elements such as walls and floors, it could present a risk of fire and smoke breaching the integrity of the system.
Manufactured with Promat Grafitex® Technology, PROMASEAL® FlexiWrap is designed to provide fire resistance where combustible insulation is used as a thermal lagging around metal pipes.
PROMASEAL® FlexiWrap is supplied in sheet form of 450mm x 880mm x 6mm thick.
PROMASEAL® FlexiWrap has been successfully tested and assessed to AS1530: Part 4 and BS476: Part 20 for both walls and floors, achieving a fire resistance level of up to 120 minutes. For higher fire resistance please consult Promat Technical Department.
Recommended Specification
Where appropriate, the specified insulated penetrations through floor/wall should be properly fire stopped using PROMASEAL® FlexiWrap capable of providing fire resistance of -/120/120 when tested and assessed in accordance with AS1530: Part 4: 2005 and/or BS476: Part 20: 1987. Installation of any fire stopping product should be carried out according to the manufacturer's recommendations. Please consult Promat for more details.