Interchangeable Steel Fittings from East Coast Industries Australia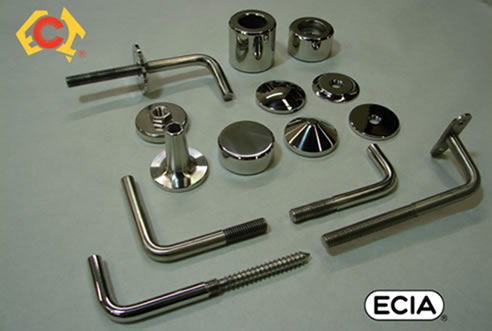 At ECIA's we specifically develop our products to be fully interchangeable. ECIA provide you the customer with one of the most comprehensive ranges and build options available.

Pictured above is a small sample of our M12 range of elbows and fittings which can be arranged in almost any conceivable formation for your building needs. Our products are available in 400grit (satin) or 600grit (mirror) polish 316 stainless steel. If we don't have exactly what you are looking for we can create custom products just for you. ECIA is not limited to off the shelf products, also providing fast design support and manufacture of custom products to your specification. Aluminium, steel, plastic and many other materials can be manufactured to suit your special requirements. Customers are welcome to visit our showroom located in our Sydney office for a closer look at our extensive range of balustrade fittings.