Mirrored Acrylic Panels for Vivid Installation from Allplastics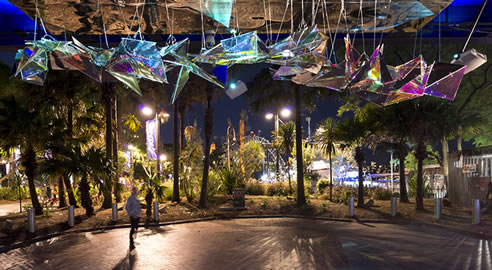 Allplastics at Vivid
Vivid Sydney attracted a record 1.43 million visitors with more than 50 free site installations and projections. "Made You Look" was installed last month as part of this year's Vivid Festival.
It was designed and installed by Ben Farrar, James Alexander Hatziplis, Marrie Claire Dent and Nicholas Grimes. The installation is made up of many mirrored and iridescent Acrylic panels supplied by Allplastics. The varying shapes come together to form a canopy that was suspended from the Cahill Expressway, next to the museum of Contemporary Arts.
Using a camera that is pointed at the site and projectors which live stream that image onto the canopy, the installation comes to life and invites the visitor to stop, reflect and enjoy their surrounding in a way which was not previously envisaged. Ben Farrar who was one of the designers of "Made You Look" commented "we are really pleased with the way the installation was accepted by visitors". He added "the Acrylic mirror and iridescent mirror looks beautiful, we appreciate the great cooperation from the Allplastics team".
Iridescent Acrylic sheets have a surface coating on one side that is responsible for the lighting effect, brilliant colours and incredible effects are created to attract attention, take advantage of this magical play at colours for your displays, signage, store decor, light pendants, store decor and fixtures to draw attention and amazement. Acrylic Mirrors are available in more than 12 colours from Allplastics and are a great alternative to glass due to their lightweight and ease of cutting as well safety aspects.
Materials supplied:
EuroMirror®
Plexiglas® Iridescent