Curved Glass Staircase Balustrade from Bent & Curved Glass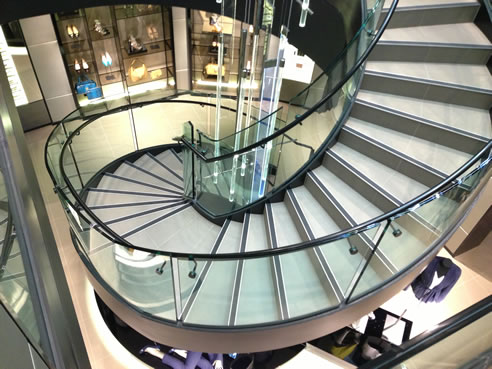 Bent and Curved Glass Feature Stair
Hugo Boss Flagship Store, 97-107 King Street, Sydney
This project is an example of the growing trend towards heavy weight toughened laminated glass solutions particularly in commercial environments. Hugo Boss' German architects have created a stunning curved stair design as the centre piece of their new Sydney Store.
Bent and Curved Glass Pty Ltd faced a challenging task to manufacture the highest quality frameless curved glass balustrade. In particular, the inner balustrade consisted of steeply raking, shaped, tight radius panels.
The fully exposed edges required exacting tolerances to achieve accurate edge alignment with uniform and smooth edge interlayer and glass finish not easily achieved, in a curved heavy weight toughened laminated glass makeup.
The success of the curved glass installation required not only technically sophisticated manufacturing methods but a high level of operator skill and experience in both the glass bending and laminating processes.
The project needed to encompass the level of excellence demanded by an international high end fashion label for their Australian flagship store. Bent and Curved Glass have achieved this and the finished product speaks for itself.
Let the unique qualities of curved glass contribute to the success of your next projects.