Cardboard Animal Bedding Dust Extracted from Sherwood Enterprises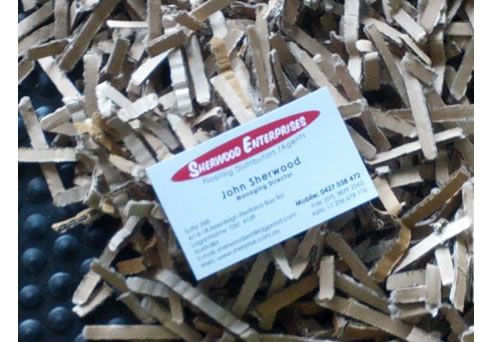 HEALTHIER DUST EXTRACTED CORRUGATED
HORSE/ANIMAL/POULTRY BEDDING
Relevant to purchasing the State-Of-Art Shredder & Dust Extraction Machinery for recycling corrugated cardboard overruns or unused boxes to which our Brisbane facility recycles into cushioned dust extracted comfy horse bedding which has been a real success story at Sherwood Enterprises and we can proudly say SHERPRISE Equine /Animal/ Poultry Cardboard Bedding is a 100% Australian Product.
Corrugated cardboard bedding initially was introduced to thoroughbred horse racing in the UK in the early 90's & later to America & since then has expanded significantly globally not only for horse bedding but sheep, poultry, dairy cattle and lamas alpacas & game birds in enclosed areas & cages as the feature benefits of Absorption, Reduction in ammonia build up hence provides better indoor air quality (IAQ) which are paramount for equine - animal - poultry improved wellbeing compared to traditional products like straw, sawdust & shavings which off gas.
* Reducing Respiratory & Allergen illness is paramount which many fail to understand how it critically it can affect Equine /Animals /Poultry in Enclosed indoor areas on a daily basis.
RESEARCH SHOWS THE FOLLOWING WITH
CORRUGATED CARDBOARD DUST EXTRACT BEDDING
ABSORPTION: Corrugated cardboard bedding was tested by the Canadian Research Council to have absorption levels 6 times more than straw, 5 times more than wood savings and twice as absorbent as hemp. (This just has to be a great HEALTH PLUS 7 consideration for your equine animal)
DUST FREE: Corrugated cardboard bedding is dust extracted before it is bagged and in particular has shown excellent benefits as its proven & selected supported by many leading International & Australian Equine/Animal hospitals, Veterinarian Practices, Equestrian/Dressage & Thoroughbred Race Horse Trainers & Poultry Farmers to assist & reduce Respiratory illness Like COPD in horses and reducing Pathogen Air borne Allergens and recently Dairy Farmers using corrugated cardboard bedding in stalls/cubicles report advise these above benefits & reduction in mastitis & reducing in soil ulcers and keeps udders dry & clean.
REDUCED AMMONIA: The high absorbency level of cardboard reduces & eliminates to high degree ammonia build up in indoor environments: Urine/liquids will run straight to the bottom of the floor and progressively be absorbed up wards achieving contained & reduced ammonia levels & a dry surface bed to encourage resting/sleeping in comfort. This absorption feature benefit improves indoor air quality (IAQ) for Equine/Animals & Poultry and indeed humans working in stable or confined environments:
CUSHION COMFORT STRIPS OF CARDBOARD NOT SQUARES PROVIDE A COMFY ENVIRONMENT: Sherprise cardboard bedding is manufactured in shredded oblong strips which absorb the urine within the corrugated air cells of the product & yet still provide springy comfy bedding and a is more like a straw bedding but with extra feature/benefits & is importantly an eco-friendly safe recycled product plus it's also biodegradable protecting & enhancing our environment:
CORRUGATED CARDBOARD BEDDING - Contains No Seeds, Spores or Parasites which can harm you livestock and importantly it is non toxic, odourless and inert plus it's non palatable.
CORRUGATED CARDBOARD HAS NATURAL AIR CELL STRUCTURE PROVIDING GOOD INSULATION. Just as humans require blankets to keep warm in the colder months as you rest the thermal qualities of corrugated cardboard assist blood levels of livestock which do drop whilst sleeping plus the comfy cardboard gives anti-fatigue qualities when standing again due to the thermal cell cushion structure of corrugated cardboard.
BIODEGRADABLE - ECO FRIENDLY - Finally corrugated cardboard is biodegradable breaking down quickly in around 8-12 weeks into good soil mulch fertilizer promoting increase soil worm activity for quality soils. Wood Shavings take 12-14 months to break down.
NOTE - 4 x4 stable required 6 bags to start add a bag as required but enjoy quicker easier muck out procedure saving time & ensuring bedding that provides extra feature benefits to your Equine/Animal & add some to your float or horse truck for added comfort whilst travelling & take a for bags for temporary stalls whilst at shows/exhibits-so much cleaning & healthier:
WE HAVE ON SPECIAL CORRUGATED CARDBOARD BEDDING IN 15 KGS BAGS.
As one of clients advises "It's a small price to pay for an Eco - Friendly Cushioned Bedding that's provides the' Healthy' feature benefits as above & my equestrian horse which has never performed better."
WHY NOT ORDER TODAY AND SEE FOR YOURSELF?