Fast Electric Hand Dryers from Verde Solutions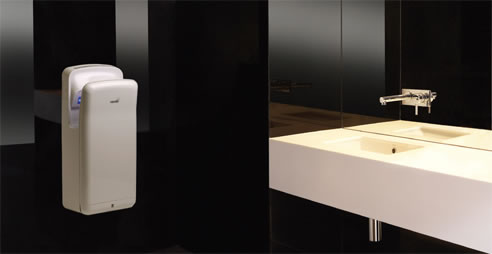 Take advantage of our unique technology
Infrared sensors detect hand positions in micro seconds. A powerful motor directs airflow through jets to the front and rear of the hands, drying them in less than 10 seconds.
Options
Hot or cool air selection. Two speed motor selection.
Safety
Built-in electrical sensors detect temperature and power faults.
Brushless motor
A brushless motor eliminates wear and tear, delivering stable, long term operation.
Hygienic filtration
Drying is entirely non-contact for absolute hygiene.
High speed airflow
The streamlined nozzles concentrate and increase the airflow velocity thus creating an effective mechanism for the drying of hands in under 10 seconds.
Automatic operation
Sensors detect the insertion of the hands and trigger the drying cycle. Once hands are retracted, the unit will automatically switch off.
Noise
Significantly quieter than other hand dryers - only 69dB on high speed and 67dB on low speed.
Power in options
Power can be supplied via standard 10 Amp plug or can be hard wired via an isolator switch.
Drainage tank
Built in tank captures excess water in a clean and safe manner. Drainage tank can be emptied and cleaned manually or permanently plumbed into existing drainage systems.