Washroom Electronic Hand Dryers from Verde Solutions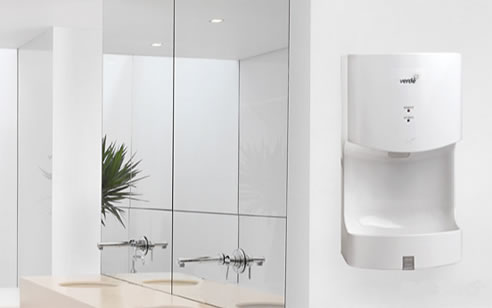 Verde Mini
Hygienic, Easy to Use
With an automatic sensor control, our hand dryer is energy efficient and easy to use. The design allows contactless hand drying effectively preventing cross bacterial contamination.
Smart Control, Energy Saving
Using the most advanced IR sensor technology, plus advanced electronic control systems, our product delivers efficient, reliable and accurate performance.
No Mess, Less cost
With our product there are no messy wet paper towels to clean up and nothing for vandals to clog drains with. The cost saving of our product over paper towels is enormous.
Stronger Air, High Speed Drying
Effective hand drying is achieved in a little as 10 to 12 seconds by the use of motor and fan speeds of as high as 24,000 rpm.
Safety Guaranteed
With over-current protection fitted as standard, users can be confident of safe and incident free operation. Auto-stop function, the built in timer will stop the unit after 40 seconds of continuous operation.
The machine is equipped with an automatic heating system. When the ambient temperature is cool, the unit will heat the out flowing air, when the ambient temperature is warm the heating system will shut down.
Easy Installation and Maintenance
Our product is designed for ease of installation requiring only standard fixings and simple maintenance routines.