Sliding Barn Door Hardware from Brio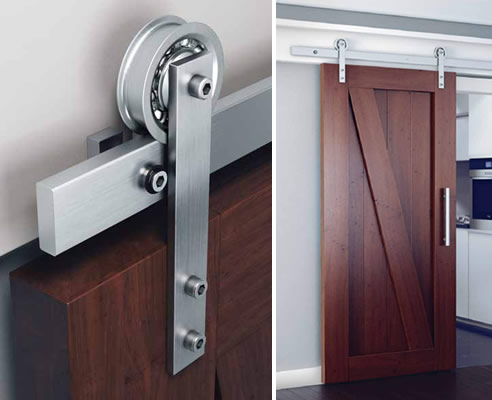 Open Square Rail Timber 150
Watch your adventurous architectural ideas unfold into exciting reality with the Brio range of sliding and folding door hardware.
The heavy duty industrial appearance of the Brio Open Square Rail Timber will suit any contemporary interior and with capacity of 150kg panels at 2m wide, the system is sure to impress. Exposed precision bearings and 304 stainless steel strap fixings offer a unique industrial aesthetic which is in high demand for residential and commercial applications.
The 304 stainless steel rollers and brushed stainless steel rail produce a heavy duty product for timber panels up to 150kg. A multitude of guides will allow these large panels to operate with or without a floor channel and so interiors are enhanced with uninterrupted flooring. Long life cycle and quality performance are assured with this new and robust system whether used in a rustic interior or modern workplace.
Also available in the range is Brio's Open Round Rail Glass and Timber for 100kg panels.

02 8718 6718
C5, Regents Park Estate, 391 Park Road, Regents Park, NSW, 2143