High Speed Folding Doors from Premier Doors Systems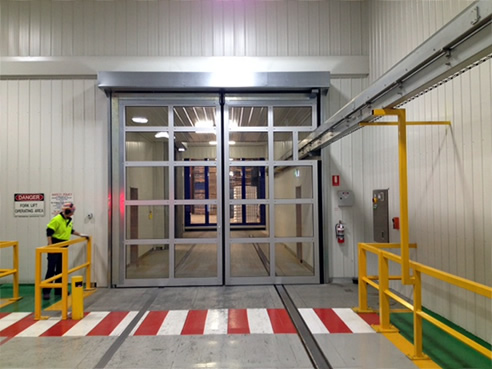 Premier Door Systems recently supplied and installed a range of specialty High Speed Doors to the VISY Food Can production facility in Victoria.
Key to the project was providing a solution to the entrance of a proposed airlock, which housed an automatic robotic pallet trolley that transferred all produced cans from production to warehousing. The pallet trolley ran on tracking guides in the floor, along with a side rail which passed through the opening and provided power and signal information to the trolley for automation. Along with these physical obstacles in the doorway itself, all finished pallets produced by the facility pass through this entrance meaning that a regular sliding type door would not be suitable due to the high cycle work load.
Through a design and consultation process with the customer, Premier Door Systems was able to provide a perfect solution via the EFAFLEX range of High Speed Doors and in particular the EFAFLEX SFT, High Speed Folding Door. In this application the SFT was designed as a single leaf folding door which had a recess that allowed the trolley arm to pass through the door when in the closed position, but also provided effective sealing important for quality control.

03 9357 8477
Unit 2, 156-162 Barry Rd, Campbellfield, Vic, 3061