Eco Friendly Flooring Ranges from Sherwood Enterprises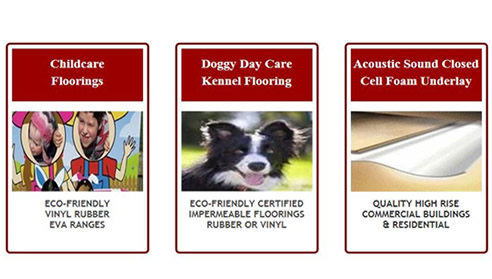 Sherwood Enterprises has just expanded their Environment Eco-friendly innovative Flooring Ranges & now market Child Care - Preschool - Education with commercial certified Vinyl, Rubber & Eva Foam Floorings plus cushioned shock absorbing Doggy Day Care Kennel Flooring and orders already received on day 1 for loose-lay Acoustic Foam & loose-lay Screed Closed Cell Underlay's.
With over 25 Years experience in Commercial Flooring Healthcare, Education Sports, Equine Flooring Industry John Sherwood advised several known Brisbane based End User Clients, Architects of the additional ranges and the ability to arrange supply /installation.
Sherwood Enterprises now markets Gym Fitness/Sports Flooring, Rubber Horse Dairy Cattle Flooring, Dust Extracted Horse Animal Shredded Cardboard Bedding, Interlocking Drainage Grid Cells STOPPING THE MUD, Outdoor Playground Matting, LVT Vinyl Planks plus the 3 New Flooring Products above.
Sherwood Enterprises is 100% Australian Owned & Operated QLD based family business and we thank-you for your future purchase as it contributes to other family businesses that are associated with Sherwood Enterprises in marketing/delivering our products since 2004.
SMALL BUSINESS THE ENGINE ROOM FOR THE AUSTRALIAN ECONOMY