Office Artwork and Consultation Service from SOHO Galleries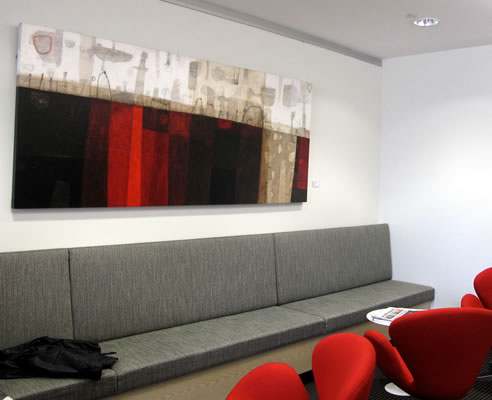 Original Artwork adds colour to your home and inspiration to your life!
This wonderful piece 'Comfort Zone' by Jonathan Hayed, indulges in subtle earthy tones yet still delivering a powerful visual impact turning any ordinary office, work space or room into something a bit more special and unique. The rich red tones complementing the individual seats, the dark browns play harmoniously with the carpet, while the white's and grey's create a sense of space, tuning in with the walls, ceiling and bench seat. A fine example of what art work can offer to any space.
SOHO Galleries has over 20 years of exhibition history to be offer a board selection of artwork for your home or office.
Offering a valuable consultation service for advise on size and style that may best suit the environment in question, given the brief by the client or designer. In addition you can then trial particular works in your home/office, with no obligation, to ensure the right choice (conditions apply)