VersiWall Modular Green Wall Replaces Cladding at Eagle Bar by KHD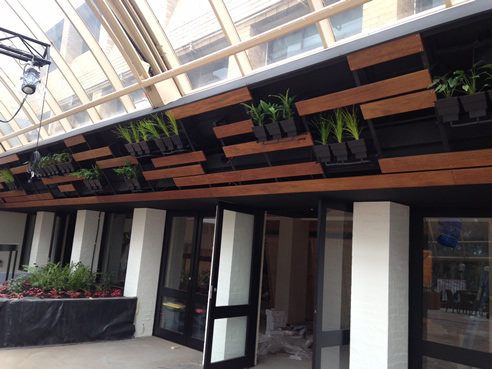 Eagle Bar - VersiWall replaces cladding
Following on from the successful installation of a 12 square metre VersiWall featuring over 400 potted Black & Green varieties of Mono Grass in the outside areas of the Eagle Bar at La Trobe University, LOVE IT Landscaping were then engaged to install additional green walls, this time, inside the venue.
The inside area of the Eagle Bar featured a significant amount of old and tired looking cladding, which has now been replaced with VersiWall and timber sections to bring more of an organic feel to the area.
VersiWall is an easy to install and low maintenance modular green wall system which is ideal for domestic and commercial applications. VersiWall trays allow plant spacing's of 200mm and 250mm horizontally and 150mm and 225mm vertically to vary plant density as required.
In addition to the aesthetics appeal, the green wall will help to improve the indoor air quality in the venue, which will no doubt be a welcome subtlety for venue goers.
Contractor - LOVE IT Landscapes