DIY Equine Flooring from Sherwood Enterprises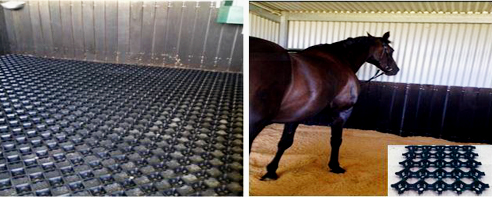 Sherwood Enterprises is an Australian family owned and operated equine flooring distributorship established in 2004 and based at Unit 9/12 Daintree Drive, Redland Bay. Servicing on-line to the Australian market - view the website www.sherprise.com.au.
It's the time of year to prepare and say NO to MUD!
Now direct to you at distributor online prices!
DIY horse stall interlocking drainage stabilisation Grid Cell flooring! So easy! DIY in just 4 steps:
Prepare the stable stall with a level base with road base/crusher dust and compact down.
Install and interlock the HD Grid Cells.
Back fill the HD Grid Cells with crusher dust or road base, top off with pea gravel, level off and compact.
Add the horse bedding of your choice and you're finished!
The horse stall drainage stabilisation Grid Cells are long lasting, very durable, and will drain naturally as the top surface will be separated from the sub surface. It will ensure your stable stall with no harsh urine odour which promotes and improves indoor air quality - thus equine health and well-being in indoor stable environments (NB: benefits stable workers health).