Combining Sunscreen Roller Blinds, Curtains and Other Window Furnishings with Solis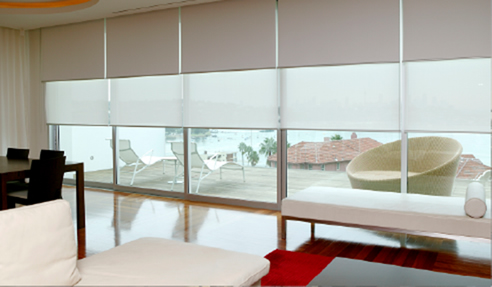 Window furnishings come in many styles and fabric, and in general one style is usually picked for a specific area. However this does not always have to be the case. Curtains are an extremely versatile window furnishing and looks great when combined with other products such as roller and roman blinds, and other window treatments from Solis Products.
The Solis fabric range for roller blinds and Panel Glides, covers three types, providing a different level of light filtration to full privacy. Sunscreen which controls the light, UV and glare without compromising on the view. Light filtering, which lets in the daylight, but gives you privacy, and blockout fabric, which blocks out all the light for darkness and privacy. Combining different styles and fabrics, gives many options for the property.
Combining Solis Window Furnishings
Roman Blinds + Sheer Curtains
Placing sheer curtains above Solis' roman blinds can add just the right amount of privacy and not totally block out sunlight. When Roman Blinds are open, direct sunlight seeps in. The sheer curtains provide UV protection while diffusing just the right amount of light. Fabrics for Roman blinds are available in a vast fabric range with textures and colours.
Sheer Light-filter Curtains + Blockout Roller Blinds
Installing sheer light-filter curtains with solid blockout blinds is not only functional, but also aesthetically pleasing. While motorised blockout blinds provide darkness and are easy to operate, whilst the sheer curtains add softness to the room.