Coloured Aluminium Pelmet for Sliding Doors from Brio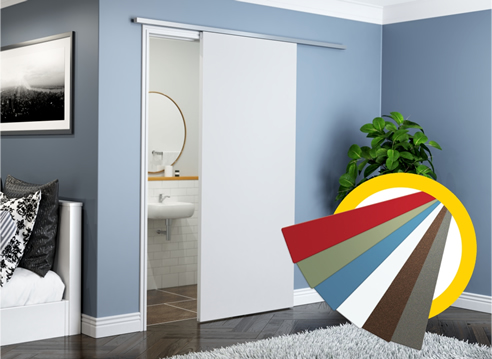 Add colour to project with Brio's Zero Clearance 60
Brio's new Zero Clearance 60 allows top hung, straight sliding panels to operate in either single or bi-parting applications.
The easy to install hangers slide quietly inside the aluminium track system which can be face fixed without the need for bulky brackets, it is also supplied with a low profile pelmet.
The hanger plates are concealed inside the top of the door meaning there is minimal clearance between panel and track, making Zero Clearance 60 a stylish solution for any residential or commercial installation.
The discreet hardware works with Brio's 60kg soft close which catches and closes panels gently to ensure noise is always kept to a minimum while little fingers are protected from slamming doors.
The aluminium pelmet is also available as a coloured fascia to enhance the installation, choose from 5 striking Dulux powder coat colours as well as white and black or clear anodised. Projects requiring a specific colour match are also possible, speak to us today to find out more.
Specific colours:
- Flame Red
- Pale Eucalypt
- Wedgewood
- Burnished Copper
- Venerable Silver