Pocket Retractable Insect Screen from Brio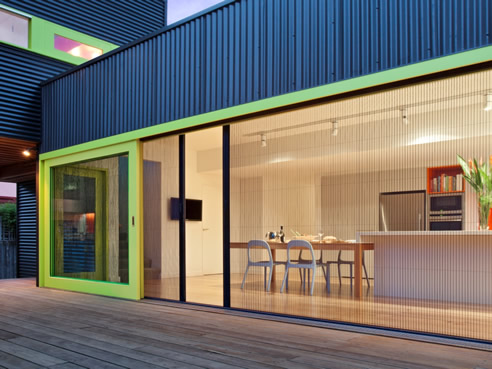 Pocket your screen for improved outdoor living
Brio's 612 Retractable Pleated Insect Screen invites the outdoors in to contemporary living spaces. The screen can span an opening 3.2 metre high and 9 metre wide (double screen) without compromising views or ventilation.
The screen functions independently to any specific window or door system but can also be integrated with Brio's Weatherfold 4s bifold hardware. The aluminium extruded frame and screen handlebar are available in powder coat black, white and silver but custom colours are also available to match the door surround.
Another way to hide the screen is to use Brio's discreet pocket application, simply mount the new pocketing bracket inside your cavity and then install the screen as usual. The handlebar can then be completely hidden from view until the screen is pulled across the opening.
Brio's 612 screen can also be installed as a retro-fit solution which is surface mounted and dressed with architrave on windows and doors with a suitable frame. A very effective solution for straight sliding or folding doorways which lack suitable insect screening.
02 8718 6718
C5, Regents Park Estate, 391 Park Road, Regents Park, NSW, 2143