Logistics and Warehousing High Speed Doors from DMF International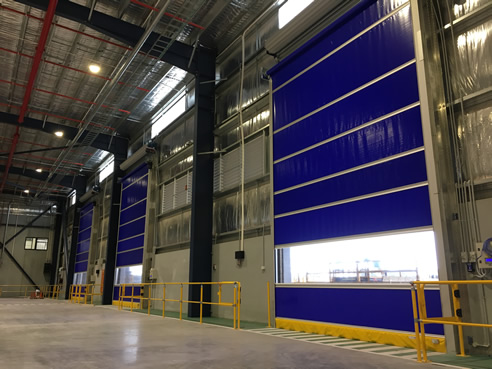 HIGH SPEED DOORS FOR LOGISTICS AND WAREHOUSING
The warehousing and logistics industry often requires the very best in control of efficient temperature and climate control, when storing and moving sensitive stock.
DMF International Pty Ltd is a Sydney based company with over 50 years experience in providing specialised doors, for the control of dust, vermin, temperature, and security, for not only the logistics industry, but many other applications as well.
The Series RL3000E Rapid Roll door is a fast roll door custom manufactured in our Sydney factory, and is equipped with many options of activation and safety sensors. The PLC controller and encoder door positioning, means an easy to use door system, that provides operating speeds of over 1.0m/sec. This enhances productivity for high use door openings, and provides an effective solution to protect the important storage atmosphere. Being the manufacturer, DMF have the design capabilities to go beyond the standard door design, to fully customise the product for the most demanding, or constrained application.
These doors are often installed together with roller shutter doors, that provide the after hours security. DMF can also supply a one door solution of high speed action, and security, using the Efaflex door option.