Heavy-Duty Polymer Concrete Drainage Channels and Trench Drain Grates for 1 William Street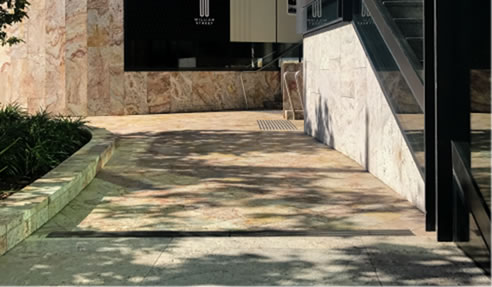 Hydro Construction Products had the privilege to provide a variety of heavy-duty polymer concrete drainage channels, trench drain grates, ductile iron and stainless steel grates for 1 William Street development project in Brisbane. Since 2003, Hydro Construction Products have continuously provided clients with high-performing water management products and solutions that integrate function and design required for the project.
Project Background: 1 William Street
A modernist-style skyscraper, 1 William Street is a landmark tower situated right in the heart of Brisbane's central business district. The 46-storey building is the tallest structure in Brisbane's skyline. It was part of the Queensland Government's plan for a renewed Government Administrative Precinct.
With its close proximity to the Parliament House, the "Tower of Power" is home to the Queensland Government, public servants and the general public. The bulk of the building design is allocated for government spaces and offers a series of outdoor spaces for community activities and programs at street level. It holds a dynamic network of pedestrian corridors that connect the site to its surroundings.
Heavy-Duty Polymer Concrete Drainage Channels and Trench Grates: Product Focus