Biophilic Green Roof from KHD Landscape Engineering Solutions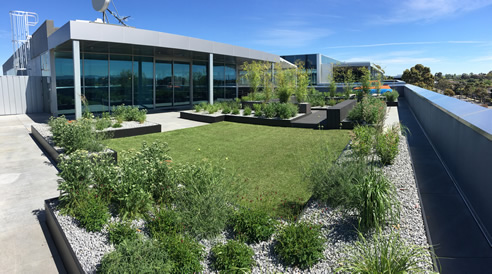 Green Roof for Pentana Solutions
When it comes to delivering a green roof, Ian Barker Gardens has a policy which we firmly believe in - that the success of a green roof lies with the performance of the membrane. The membrane must be secure and flood tested successfully before any construction begins. It's a process and policy that is critical and we support the Ian Barker Garden team in this pursuit.
With regards to this recent project, Ian Barker Gardens were engaged to design a biophilic Green Roof space for staff at Pentana Solutions. Pentana provide innovative solutions for the automotive industry. We can certainly see how this green roof space would help inspire an organisation to achieve such innovative projects.
For this project, KHD supplied drainage cell and geo fabric which was used in the garden beds and plater boxes.