Coloured Solid Core Laminate Xenolith from Polytec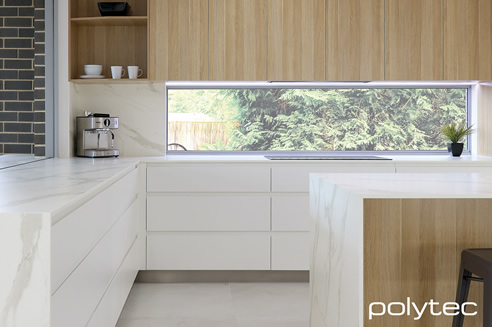 XENOLITH
polytec's innovation continues with the newest release of Xenolith, a superior solid core product which can be used in various high-traffic applications. Xenolith is a 15mm premium coloured core high pressure laminate, available for both vertical and horizontal applications.
The unique coloured core allows for exposed ends with no join lines caused by a laminated edge, matching the colour of choice. This premium product is available in numerous benchtop profiles, the matching core providing an aesthetically pleasing design.
XENOLITH is offered in three popular stone patterns, two Calacutta's with a touch of high-end luxury and one modern grey concrete inspired by industrial design. All three are available in a soft and warm to touch Smooth finish in 3660mm x 1830mm full sheets and made-to-order benchtops.