PERSPEX® Royals Colour Range from Allplastics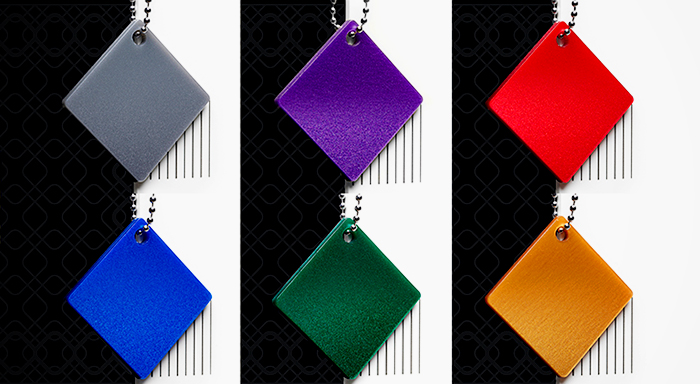 Crown your displays with the ROYALS range!
We are excited with the arrival of the latest members of the PERSPEX family to Australia. The Royals offer rich, lustrous, chromatic effect producing a colour shift across the surface as the viewing angle changes. Available in six colours: red, green, blue, gold, grey, and purple.
PERSPEX Royals has all the excellent properties of cast acrylic sheets. With a luxurious silk texture and metallic shimmer, the Royal colour range is specifically developed with retail and POS in mind. However, the creative mind is only restricted by its imagination and is sure to find new applications... think Christmas (green and red), or Weddings (gold)!
Key Features
Consistent bold colour when illuminated.
A unique colour shift capability.
Strong, durable and hard wearing.
Easy to shape and style.
Light weight and easy to install.
PERSPEX® 10-year outdoor guarantee.
100% recyclable.
Applications and Functions
POP.
Shop fitting.
Interior Design.
Furniture.
Architectural features.
Availability of PERSPEX® Royals:
Size (mm): 3050 x 2030.
Thickness (mm): 3.
For more information regarding PERSPEX® Royals Colour Range from Allplastics, visit www.allplastics.com.au.