Bar Chairs for Block Work from BlockAid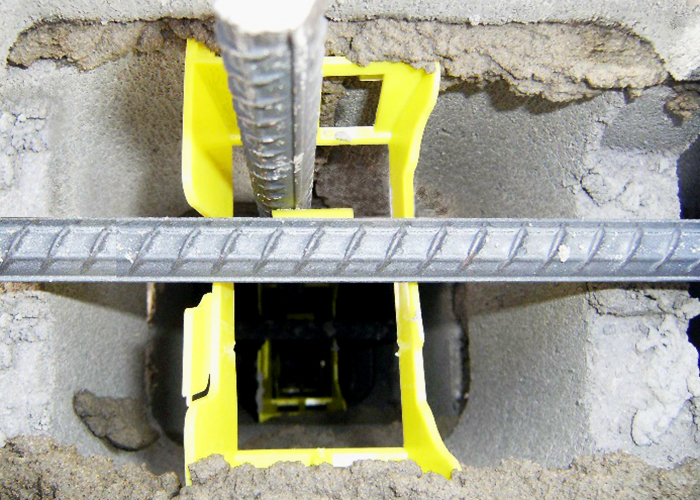 BlockAid "Bar Chairs" accurately support and secure in position the horizontal and vertical reinforcement to achieve compliance. The use of Bar Chairs will ensure masonry walls will meet the structural capacity of the design intent. Bar Chairs effectively helps specifiers achieve building compliance to Australian Standard AS3700-2018 for reinforced masonry walls.
BlockAid Bar Chairs:
Accurately locate both horizontal and vertical reinforcement to achieve compliance.
Support horizontal steel off the web as per AS3700-2018.
Accurately align control joint dowels to ensure the joint functions.
Align the vertical reinforcement to the starter bars.
Facilitate risk-free inspection for Certifiers with clearly visible BlockAids in place.
Eliminate the requirement of steel fixers on critical projects.
Eliminate tying steel in place to hold secure before core filling.
Core fill without risk of misalignment using current core filling practices.
Ensure adequate grout cover as specified in AS3700-2018.
Save on construction time.
Save material by eliminating lapped joints in vertical reinforcement.
Eliminate the risk of insurance claims being denied for damage caused by non-compliance.

BlockAid recently featured at DesignBUILD 2019, showcasing their Masonry Bar Chairs including BANCL190 and BANCL290 for non-centrally located reinforcement and the BACL190 for centrally located reinforcement.
For further inquiries, contact Chris at BlockAid on 0407 002 669 or head over to www.blockaid.com.au.